In this weeks' article, I take on a Goliath –
See, at some point in every intelligence analysts career, there's a need to stand up and be accountable…
And for me, that day has come.
Today, it's time to take on the haters, to stand up and actually provide a definition of intelligence…
Now, before you slump in your chair and roll your eyes (I know what you're thinking),
This is not an exercise in academic platitudes but rather an important debate in determining the fate of the profession of intelligence! (emphasis added)
Why is defining intelligence so important?
Throughout my career, I've witnessed numerous debates about the 'correct definition of Intelligence.'
It seems this topic is actually a bit of a hot-button issue for some (cough**academics) who often had a hard time coming to terms with a 'standard definition' for both the practice and product of Intelligence.
I've read countless journal articles and research papers that discussed the definition of intelligence (often at length) leaving me bored and ultimately none-the-wiser as to the 'correct definition'.
That was until I realised, there is no correct definition for Intelligence.
The reason it's so important is because, no one can seem to agree what intelligence is –
Is intelligence: 
a) The process?
b) The practice?
c) The product?
or
d) All of the above?
Wanted: A Definition of Intelligence
In 2002, Michael Warner wrote a short article titled Wanted: A Definition of "Intelligence", in which he highlights the problems with defining intelligence. He states 'even today, we have no accepted definition of intelligence.'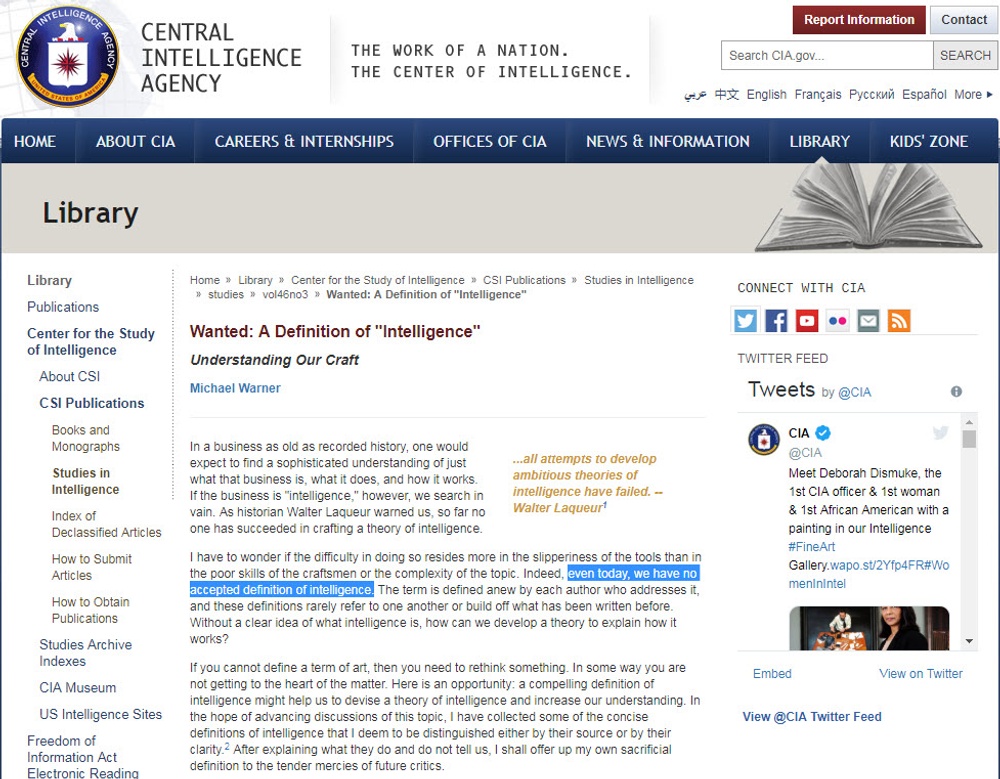 What's the US Department of Defense Definition?
In seeking a single point of truth, you would expect to rely of the US Department of Defense (DoD) for a reliable definition.
DoD offer the following [very wordy] holistic definition of intelligence;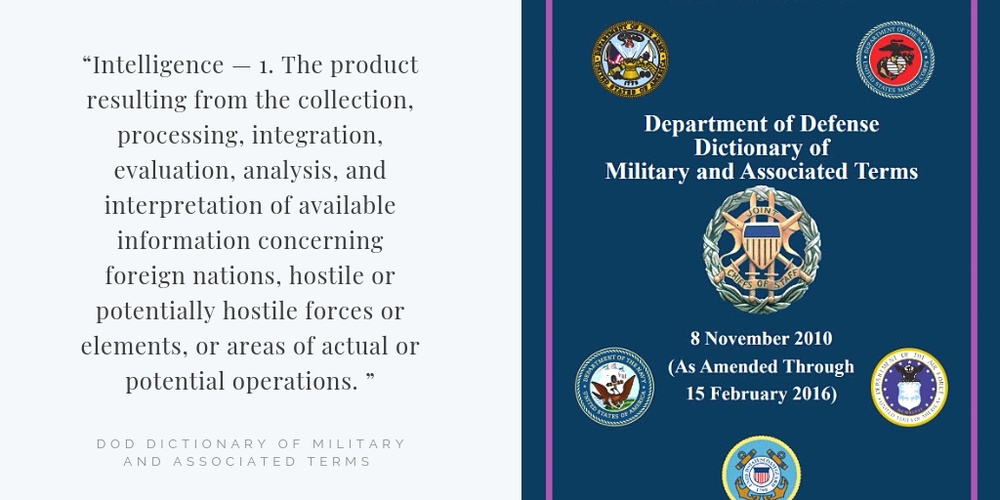 Here's some other attempts to define Intelligence
Intelligence definition 3. 'Actions or processes used to produce knowledge.'
Intelligence definition 4. 'Secret, state activity to understand or influence foreign entities.'
Intelligence definition 5. 'Information of military, economic or political value that is collected, processed and analysed to inform actions to provide an advantage.'
Intelligence definition 6. 'Intelligence is knowledge of the enemy'

In the end, only one thing is clear: there is no agreed one definition for intelligence.
My Definition of Intelligence
So, I'm offering a simple and easy definition to inform our understanding throughout this book.
What to see it? well, here it is –
My Intelligence definition. 'Intelligence is processed information, for action'
Beautiful.
Now, I understand there's going to some be people out there who might not agree entirely with my suggested definition for intelligence.
Guess what? That's fine!
As I said, there is no single or common definition for the collective theory, practice and craft of intelligence.
Your Definition of Intelligence (Activity)
My definition of intelligence is based on my understanding and my experience –
Like any good intelligence professional, I would suggest you do your own research and come up with a definition of your own.
And this brings us to our activity…
Activity
Read through Warners article above and come up with your own definition of intelligence.
Post your definition of Intelligence in the comments below –
From Information to Intelligence
Would you like to:
Develop a comprehensive knowledge of the Intelligence Cycle and the Foundations of Intelligence Analysis?
Learn how to make Intelligence collection plans and write Intelligence Briefs?
Understand Intelligence Collection methods including HUMINT, SIGINT, IMINT, GEOINT, and OSINT?
Compile Strategic Analysis and deliver Oral Briefings?
Apply your Intelligence training to different roles and environments including Law Enforcement, Military, Counter-terrorism?
Develop your critical thinking and learnt to use various analytical methods?
Understand the impact of Intelligence in multi-disciplinary roles?
Then join us in our interactive Intelligence Training Course today.